Balrog.Brutalizer
Attributes
Primary Attribute
Strength
Strength
36 (+7)
Agility
28 (+5)
Intelligence
26 (+3)
Stats
Starting Health
250
Starting Energy
 ??
Base Armor
 ??
Movement Speed
2.75
Base Damage
40
Attack Speed
2
Attack Range
1.25
Sight Range
12
Gameplay
Difficulty
 ??
Role
DPS
Implementation
Status
Current
Misc
Alignment
Lawful Evil
Introduction
Lore: Once a great underground boxer working for the criminal organization Shadaloo, Balrog was captured and mutated by a small invasion of Zerg forces back on home planet earth. He now employs his legendary boxing skills to strike fear in the enemies of the Overmind.
Skills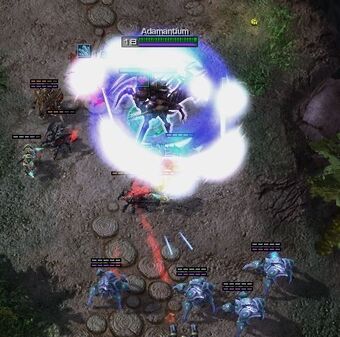 Strategy
See Strategy
Balrog is a tank who offers the team the unique ability of AoE Debuff removal with his W - making him a passive counter to heroes like Rory, Toxi, and Egon. Max Q or W first unless your lane intends to play passively, in which case E is ideal. Try to keep your Ult stacked for the extra health. In teamfights, Balrog just needs to man up and jump in, though watch for a chance to use your W to save an ally from a stun or damage over time effect. Run 0/3/3 talents, focusing on movespeed, health, armor, energy regen, and cooldown reduction.
Ad blocker interference detected!
Wikia is a free-to-use site that makes money from advertising. We have a modified experience for viewers using ad blockers

Wikia is not accessible if you've made further modifications. Remove the custom ad blocker rule(s) and the page will load as expected.