Doctor.Geneva
Attributes
Primary Attribute
Intelligence
Strength
28 (+5)
Agility
24 (+3)
Intelligence
38 (+7)
Stats
Starting Health
300
Starting Energy
 ??
Base Armor
 ??
Movement Speed
2.9
Base Damage
47
Attack Speed
1.85
Attack Range
6
Sight Range
12
Gameplay
Difficulty
 ??
Role
Support
Implementation
Status
Current
Misc
Alignment
Neutral Good
Introduction
Lore: A revered doctor in her own right, Dr. Geneva is augmented by the Medic Combat Suit to assist wounded allies even as they being struck by live fire.
Geneva excels at helping allies out of sticky situation. She is equipped with restoration skills, shields, and flares that disable enemy forces.
Skills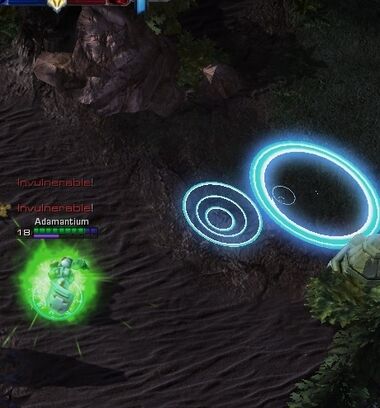 Strategy
See Strategy
Geneva is a caster support who excels at keeping a single target alive. As such, she works best with squishy autoattack carries, and serves as a counter to heroeslike Micro, Brine, and even Cyprus, who single out one target. Awareness in teamfights is critical to play Geneva successfully; you must know when, where, and on whom to use your skills at a moments notice. Because of her easy AoE and passive shields, she can take any lane solo, and is generally put long lane or mid. Max E first. Run 0/3/3 talents, focusing on health, armor, movespeed, cooldown, and energy regen.
Ad blocker interference detected!
Wikia is a free-to-use site that makes money from advertising. We have a modified experience for viewers using ad blockers

Wikia is not accessible if you've made further modifications. Remove the custom ad blocker rule(s) and the page will load as expected.