Dustin.Brawler
Attributes
Primary Attribute
Intelligence
Strength
25 (+5)
Agility
25 (+4)
Intelligence
40 (+6)
Stats
Starting Health
225
Starting Energy
 ??
Base Armor
 ??
Movement Speed
2.90
Base Damage
55
Attack Speed
1.8
Attack Range
6
Sight Range
12
Gameplay
Difficulty
 ??
Role
DPS
Implementation
Status
Current
Misc
Alignment
Neutral Good
Introduction
Lore: Dustin Browder is a video game designer, currently working for Blizzard Entertainment. He has worked in the video game industry since 1995 at a variety of companies, including Activision, Electronic Arts, and Simon & Schuster Interactive.
Dustin is equipped with a Utility Drone, Predator Missiles, and Plasma Beams. Raining death from afar, Dustin excels at bringing down the most resilient of enemies.
Skills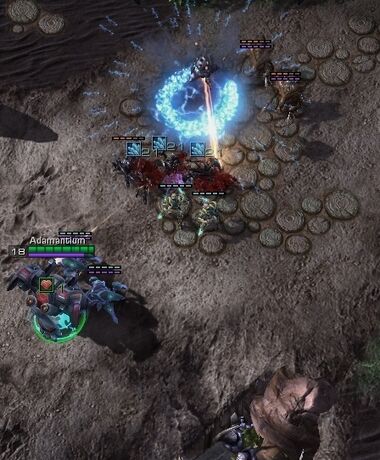 Strategy
See Strategy
A caster semi-carry with long range, short cooldown abilities, Dustin can destroy an enemy team given a strong front line and proper farm. Know the range on your rockets, and practice using E to angle your laser through multiple targets. Max Q first if you are confident you can hit it, as your Q does more damage and is more spammable then W. Take mid or short lane, and watch your energy constantly - Dustin has a tendency to run out at the worst times. Run 1/3/2 talents, taking spell damage, health, armor, zeal, cooldown, and max energy
Ad blocker interference detected!
Wikia is a free-to-use site that makes money from advertising. We have a modified experience for viewers using ad blockers

Wikia is not accessible if you've made further modifications. Remove the custom ad blocker rule(s) and the page will load as expected.