Fine.Brine
Attributes
Primary Attribute
Strength
Strength
35 (+5)
Agility
35 (+6)
Intelligence
20 (+4)
Stats
Starting Health
250
Starting Energy
 ??
Base Armor
 ??
Movement Speed
2.75
Base Damage
63
Attack Speed
2.0
Attack Range
1.25
Sight Range
12
Gameplay
Difficulty
 ??
Role
Initiator
Implementation
Status
Current
Misc
Alignment
Neutral Evil
Introduction
Lore: Like a fine wine, Brine is one of the Overmind's longest evolutions, several hundred years in the making, spawning in the deepest pits of Char. Now unleashed unto the surface, Brine's long-brewed abilities are now put to the test.
Skills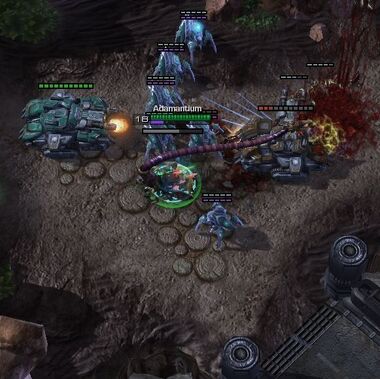 Strategy
See Strategy
Brine is a very strong early game hero that combos great with skillshot dependent heroes, as his E sets up easy kills. Max Heal first, as it allows you to shrug off any incoming damage as you race in to grab the enemy. Spam your Heroic Passive in lane. Roam gank once you hit level 6. Brine falls off late game as enemies gain truesight, because his skill ranges are so short. Run 0/3/3 talents, focusing on movespeed, health, armor, energy regen, and cooldown reduction.
Ad blocker interference detected!
Wikia is a free-to-use site that makes money from advertising. We have a modified experience for viewers using ad blockers

Wikia is not accessible if you've made further modifications. Remove the custom ad blocker rule(s) and the page will load as expected.