Gabriel.Tosh
Attributes
Primary Attribute
Agility
Strength
29 (+5)
Agility
36 (+6)
Intelligence
25 (+4)
Stats
Starting Health
250
Starting Energy
 ??
Base Armor
 ??
Movement Speed
2.80
Base Damage
50
Attack Speed
1.8
Attack Range
5
Sight Range
12
Gameplay
Difficulty
 ??
Role
DPS
Implementation
Status
Current
Misc
Alignment
Neutral Good
Introduction
Edit
Lore: One of the first Spectres ever produced by the Dominion, Tosh was crafted with the most unstable, untested terrazine serums. As the leader of Project Shadow Blade, he eventually found motives to become opposed to his employees, turning the Spectre class into a subversive rebel group. An outcast even from mercenaries, Tosh roams the galaxy with his pirate gang and rock band "Tosh and the Screamers" to slake their thirst for terrazine.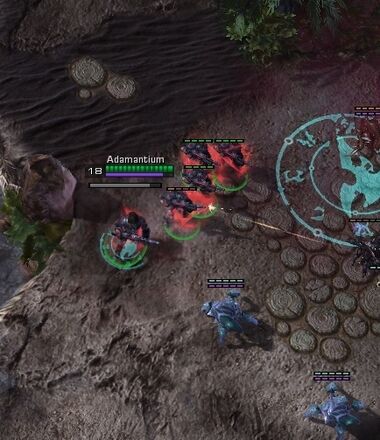 See Strategy
With the potentially the most stuns in the game, and almost all of them AoE, Tosh is a ranged, autoattack semi-carry who lanes mid, short, or jungle, and can easily win a game with his amazing mid-game stunlock. Max his Spectres first, and use them to harass and out-deny the enemy, but keep them out of harms way or you will find your hero much less potent. Note that his ult sets his weapon damage to 0 and deals flat true-damage instead, but does proc all on-hit effects. Run talents depending on your lane/jungle.
Ad blocker interference detected!
Wikia is a free-to-use site that makes money from advertising. We have a modified experience for viewers using ad blockers

Wikia is not accessible if you've made further modifications. Remove the custom ad blocker rule(s) and the page will load as expected.