Ironhide.Cain
Attributes
Primary Attribute
Strength
Strength
36 (+6)
Agility
26 (+5)
Intelligence
28 (+4)
Stats
Starting Health
270
Starting Energy
 ??
Base Armor
 ??
Movement Speed
2.80
Base Damage
50
Attack Speed
1.7
Attack Range
5
Sight Range
12
Gameplay
Difficulty
 ??
Role
DPS
Implementation
Status
Current
Misc
Alignment
Chaotic Neutral
Introduction
Lore: Hammer securities' ace pilot, Cain survives a life of military accomplishment and casual fame. But such trivial hallmarks to fortune are but a small drop in his delusions of grandeur. He wants more than this.
Skills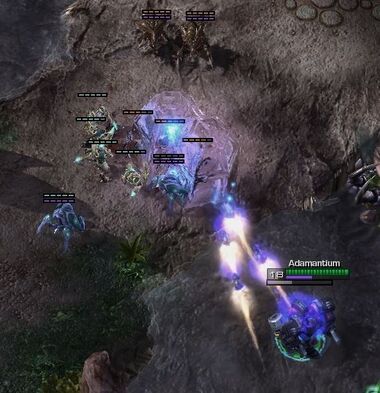 Strategy
See Strategy
Cain is a semi-carry lane bully who does best solo mid, or with someone who can help him get more consecutive attacks off on the same target. He has trouble actually carrying due to how slow he is, but does serve as a tanky secondary dps. Max E first - note that the max attack speed stays for up to 15 seconds, which is more then the cooldown of the skill, allowing back-to-back E if you wait a bit. Run 1/2/3 talents, taking weapon damage, health, armor, cooldown reduction, energy regen, and movement speed.
Ad blocker interference detected!
Wikia is a free-to-use site that makes money from advertising. We have a modified experience for viewers using ad blockers

Wikia is not accessible if you've made further modifications. Remove the custom ad blocker rule(s) and the page will load as expected.