Voltron.Leo
Attributes
Primary Attribute
Agility
Strength
29 (+6)
Agility
29 (+6)
Intelligence
17 (+3)
Stats
Starting Health
250
Starting Energy
 ??
Base Armor
 ??
Movement Speed
3
Base Damage
48
Attack Speed
1.7
Attack Range
1.25
Sight Range
12
Gameplay
Difficulty
 ??
Role
Initiator
Implementation
Status
Current
Misc
Alignment
Neutral Neutral
Introduction
Lore: One of five Dominion prototypes, Leo is the first incarnation of the Predator series. Grossly over-funded at the vanguard of the project, Leo sports vastly superior hardware. Leo is designed to engage and plow through hordes of enemies. Additional features allow him to pick off stragglers that manage to escape his onslaught of electrical fury.
Skills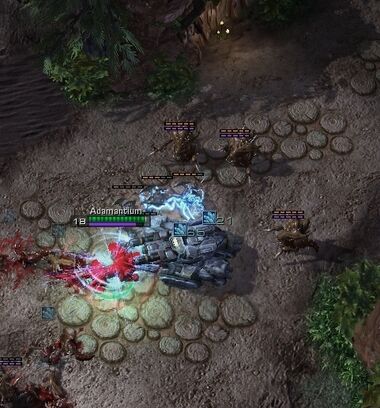 Strategy
See Strategy
Kitty is a heavy hitting autoattack carry that relies on his powerhouse ult to kill everyone, at the same time, in 12 seconds flat. He excels at chasing down fleeing enemies, but is highly susceptible to crowd control, and as such, should engage in a fight only after key stuns/slows have been used. Leo suffers from weak laning, and tends to be played in the jungle where he can free farm. Max Q first for the ease of farming. Run talents depending on jungle/lane.
Ad blocker interference detected!
Wikia is a free-to-use site that makes money from advertising. We have a modified experience for viewers using ad blockers

Wikia is not accessible if you've made further modifications. Remove the custom ad blocker rule(s) and the page will load as expected.